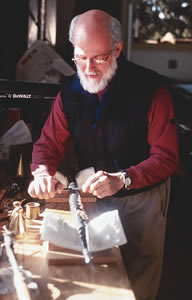 Charles M. Ruggles is a native of Cleveland Heights, Ohio, and a graduate of Oberlin College where he studied organ with David Boe and Fenner Douglass. In 1969 he won the National Scholarship Competition sponsored by the Cleveland Chapter of the American Guild of Organists. During the year 1971-1972 Mr. Ruggles served as assistant organist of Trinity Cathedral, Cleveland. In the summer of 1972 he attended the Summer Academy for Organists in Haarlem, Holland, where he studied with Anton Heiller and Luigi Tagliavini. He has also studied organ with Robert Fort, J. Heywood Alexander, William Tinker and Donald Willing.
Mr. Ruggles learned organbuilding with John Brombaugh in Middletown, Ohio. In 1975 he studied extensively the old organs and organbuilding traditions in Holland, Germany, France, Switzerland and Austria. Since September of 1975 he has been building mechanical action organs under his own name in his workshop in Cleveland Heights. In September 1981 he moved his workshop and residence to Olmsted Falls, Ohio. In 1995 Mr. Ruggles moved his residence and workshop to Conifer, Colorado. Mr. Ruggles is a member of the American Institute of Organbuilders and the International Society of Organbuilders.
Charles M. Ruggles Pipe Organs is a skilled group of craftsmen dedicated to the design and construction of fine organs. With the exception of some of the metal pipes, blowers and some small metal action linkages, all instruments are constructed entirely in our workshop. We utilize tracker or mechanical action in our organs because of its responsiveness to the performer and its ability to function virtually maintenance-free for many years. The tonal and mechanical concepts of our instruments derive largely from the organbuilding practices of the 16th-19th centuries of central and northern Europe. However, our organs should not be characterized by such terms as Baroque or Romantic, because, with each instrument, we are responding to the specific needs and situations of the client. At the same time we are striving for a tasteful mix of the old and the new while subscribing to a set of limitations that we see crucial to an artistic result. In designing casework we strive for elegance in a variety of styles, with the intent to harmonize with and be an outgrowth of the room in which the organ stands.
In addition to designing and building new instruments, Ruggles Pipe Organs is engaged in selective rebuilding and restoration of 19th century mechanical action organs.
home | opus list | faq | reviews | terms of sale | about us | contact us