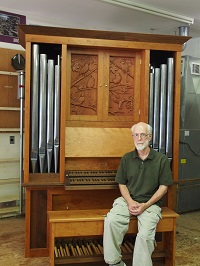 Charles Ruggles at Opus 31
for Denise Lanning,
Denver, Colorado
"Charles Ruggles is the subject of a recent thesis on his career, written by Mark A. Herris as part of the requirements for Herris's Doctor of Music degree from Indiana University (https://scholarworks.iu.edu/dspace/handle/2022/20810). Ruggles recently celebrated 42 years of designing and building mechanical-action organs. Ruggles's work has been reviewed in numerous magazines and journals..." (from The Diapason, Demember 2017. For full article, click here.) To read Mark A. Herris' full Doctoral Thesis, "A Profile of Charles M. Ruggles, Builder of Hand-Crafted Mechanical Action Organs," click here.
The restoration of the 1884 Henry Kilgen organ from St. Augustine's Cultural Center, Austin, Nevada has been completed. The organ was re-installed in the Center earlier this month. A rededication of the organ and building will occur in May 2014. Watch for more details and photos.

The Fairmount Presbyterian Church Memorial Chapel Organ, Opus 30, was completed and installed in 2008. The in house dedication took place on October 5, 2008 in Cleveland Heights, Ohio. The Dedication Recital was on May 3, 2009.


Opus 24 has recently been relocated in the new church building, which was designed around the organ. The organ was featured in the Organ Historical Society's Convention, held in July, 2007 in the Indianapolis Central Indiana area.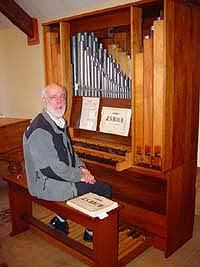 Opus 1 is currently being housed at the St. Laurence Episcopal Church in Conifer, Colorado. Mr. Ruggles performed on Sunday, March 29th at the morning service. For the Offertory, he played Trio in A, on Allein Gott in der Hoh' sei Ehr' by J.S. Bach. For the Postlude, he played Prelude in C major, BWV 545 by J.S. Bach.
In addition to building new organs and doing selective restorations and repairs, Charles offers subcontracting services to other builders, including making metal and wood pipes, rebuilding metal pipes, bellows, pedalboards, etc. He is currently making metal pipes for one of his colleagues. If you need help with a project, please let him know.